Introduction
ESP is instrumental in promoting Science, Technology, Engineering and Maths (STEM) with both Scotland's colleges and its strategic partners. This has resulted in the colleges having a lead role in establishing the Regional STEM Hub Partnerships (a collaboration of relevant partners across all regions of Scotland). Consequently, ESP is an active member of the STEM Hub Steering Group and has convened a college STEM Leads' Forum to support the development of Regional Strategies and Action Plans.
Overview
Since February 2016, ESP has received funding, sponsorship and STEM resources worth in excess of £300k.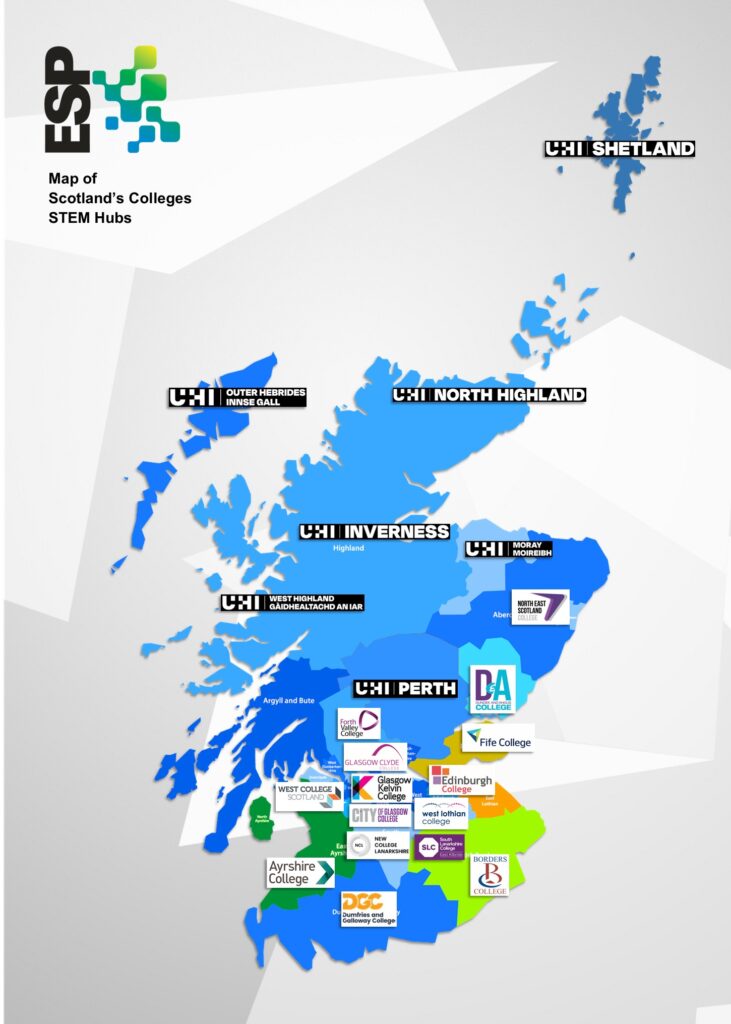 We have sponsored a myriad of events in support of STEM outreach including activities in the Western Isles, West Highland (including Skye), North Highland including Caithness and Sutherland, all the way through the Central Belt into Dumfries and Galloway and the Scottish Borders.
Despite COVID-19 Restrictions, ESP has run a virtual Step into Renewables event for Dundee and Angus with another planned to highlight the Renewables supply chain and supporting industries working near Fraserburgh and the North East of Scotland.
Despite not being able to run First Lego League 'Festivals' for 6 to 9 year olds, ESP were able to coordinate the IET's donation of 37 LEGO® Explore kits with LEGO® Education WeDo 2.0 robots and 6 LEGO® Discover kits to the Education Hubs which were still open to support key workers children and vulnerable youngsters.
Initiatives
ESP has introduced and supported a number of STEM challenges across Scotland including:
We have developed a number of strategic partnerships with a range of organisations, including;
The IET: ESP is the delivery partner for the IET FIRST® LEGO® League across Scotland and as an IET education partner, also supports initiatives such as the Faraday Challenge.
Ministry of Defence: signing an MoU with the Ministry of Defence and Civil Service as a STEM Delivery Partner. Project managing the inaugural SUBS in Schools competition and coordinating the use of RAF gifted resources such as MTa STEM kits via Scotland's colleges.
Glasgow Science Centre: supporting Glasgow Science Centre to secure funding and promoting Powering the Future on Tour and Idea 59.
Developing the Young Workforce: Partnering with DYW to run regional Step into STEM events and assisting local employers in developing their STEM strategies and also signposting industry partners to Regional DYW activities aligned with those strategies. During the COVID-19 Lockdown STEM careers and associated college courses were promoted via the national e-DYW website.
Education Scotland: Close liaison with Education Scotland's STEM Officers and Primary Science Development (RAiSE) Officers has resulted in improved promotion of STEM activities to schools. Along with the Improving Gender Balance and Equalities (IGBE) Officers, Education Scotland provides key support and advice on schools' engagement to the regional partnerships.
STEM Learning: The 3 regional hubs in Scotland have been key in signposting ESP's volunteering opportunities to local STEM Ambassadors. Similarly ESP when assisting industry partners with their STEM strategies has been able to connect them with their local STEM Learning Hub to arrange Ambassador training for their staff.
ESP Careers resources
During the COVID-19 lockdown, colleges and schools have had to look at alternative ways of teaching. Learning materials and links to careers in engineering, the automotive sector, construction and other STEM industries can be found in the ESP Resources section of the website.