Energy Efficiency Training Network
About
Through the work with Scottish Government's Energy Efficient Scotland Programme, ESP identified a significant gap in training provision across renewable and energy efficiency technologies. To address this, we have established an Energy Efficiency Training Network across Scotland's colleges supported of £500,000 from SP Energy Networks' Green Economy Fund.
Funding has allowed significant capital investment in:
Renewable and energy efficiency equipment
Staff training and CPD in current and emerging technologies
Curriculum development
Funding
The Green Economy Fund aims to support projects that will ultimately help the Scottish Government in reaching its green targets, which aim to boost local economic growth, improve air quality in our cities and deliver a better future, quicker for our communities. The fund does this by helping projects that promote low-carbon heating, low-carbon transport, or the education of Scotland's workforce for a greener future.
SP Energy Networks is proud to be funding Energy Skills Partnership through the Green Economy Fund. The funding will support the innovative project to make a long-term social and environmental impact in their area, contributing towards Scotland's green economy.

Jillian Violaris, Green Economy Fund – Project Manager, SP Energy Networks
Members
Nine colleges in the SP Energy Network region are being supported to develop specialised renewables and energy efficiency training centres to ensuring they have the capability and capacity to train the future workforce.
Key Deliverables
The project will place colleges at the forefront of training for the future renewables and energy efficiency workforce in Scotland. It will support employers in preparing their existing workforce to meet future demands, apprentices though gaining relevant skills and knowledge, awareness raising amongst the wider student population and local communities.
Procure Capital Training Equipment
Procure capital training equipment and establish renewable training centres equipped with up to date technology and replicate a real life working environment as much as possible.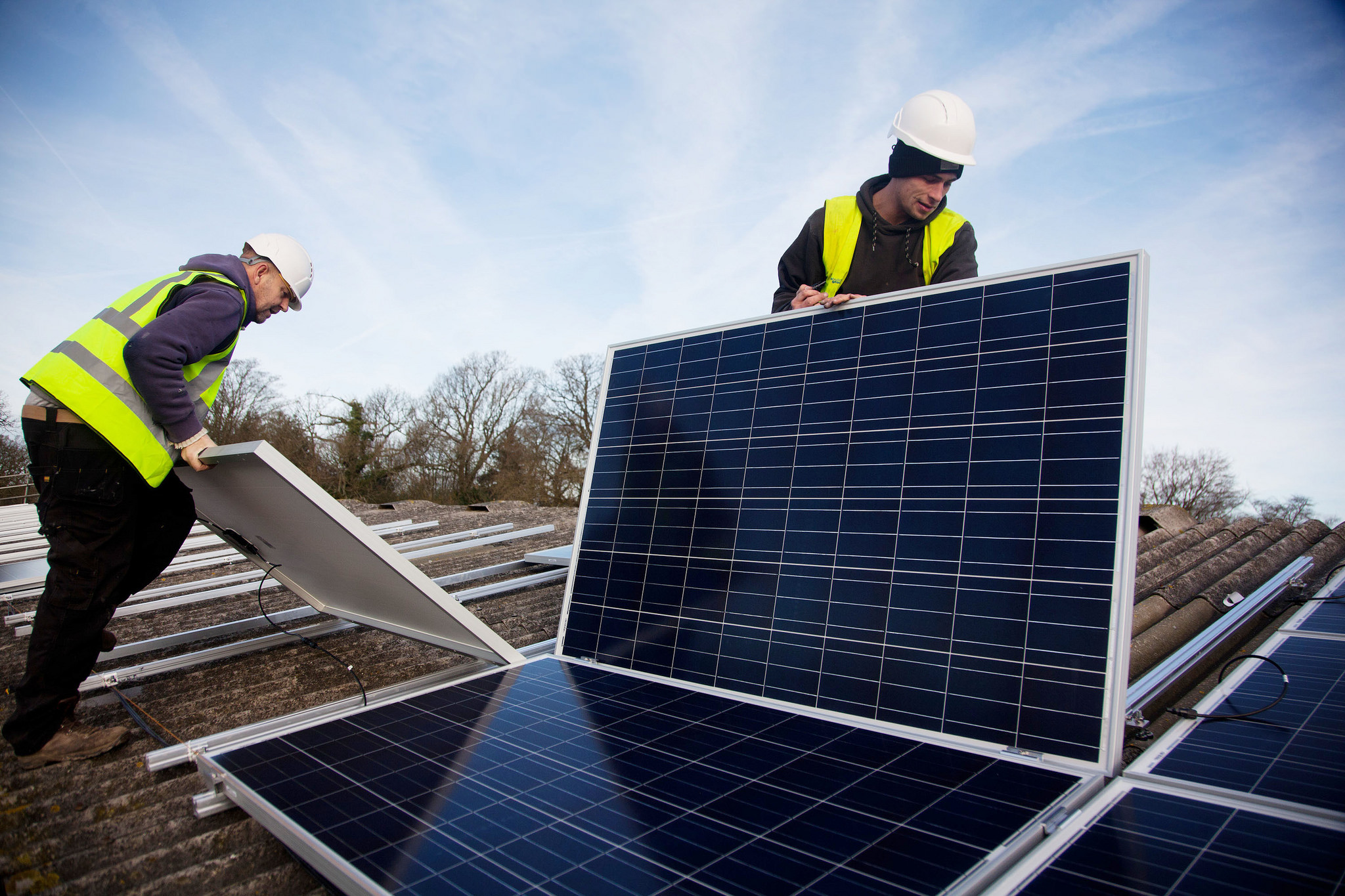 Promote Energy Efficiency Training
Promote energy efficiency training to industry and local councils in line with Scottish Government's Environmental policies to upskill the existing workforce and move towards a greener more efficient housing stock.
Staff Upskilling
ESP have commissioned a number of courses in line with industry needs available to college staff and students including:
Series of webinars delivered by Vaillant on decarbonisation of heat and low carbon technologies.
Webinar training on mechanical heat ventilation from Paul Heat Recovery
Training
---
This would be the Construction Main Page layout
Introduction
Informed by the Construction Skills Investment Plan (SIP) the Construction Strategy Group was established to lead on Construction and Energy Efficiency for Scotland's colleges and have a strong focus on future developments.
Purpose
The purpose of this group is to bring construction experts together to lead on change that will build up college capacity and capability in line with Scottish Funding Council and Skills Development Scotland's strategic aims and current priorities.
Our Aim
Our aim is for Scotland to be at the forefront of skills development for the Construction sector and to ensure the right skills are being developed at the right time to meet industry and colleges regional needs.
Energy Efficiency Skills Landscape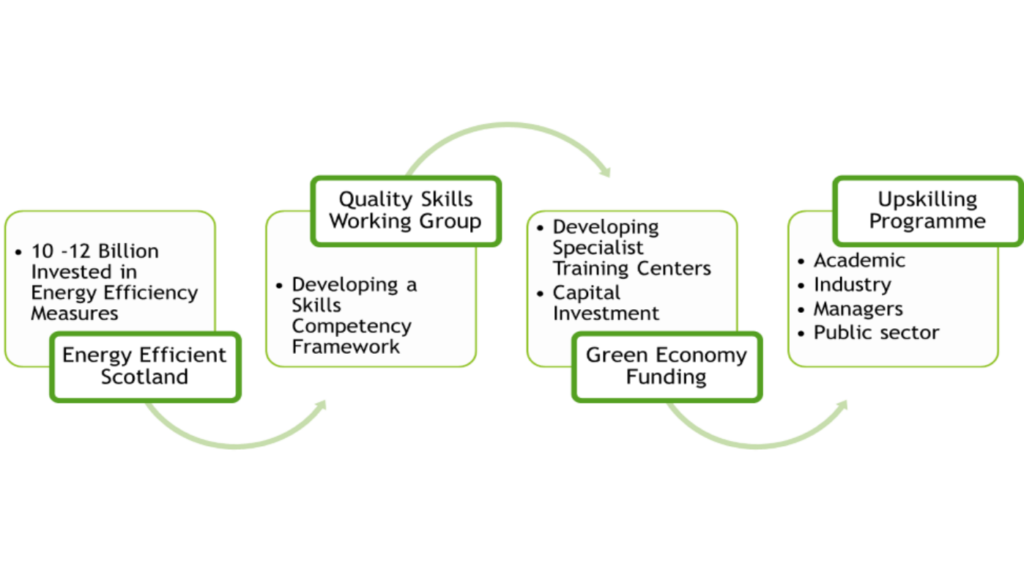 Current Projects
Energy Efficient Scotland's
---
This would be the new page layout for Assessor Project Page
National Assessors Project

About
ESP working with Construction Industry Training Board (CITB), in partnership with 24 Scottish colleges, government agencies and private training providers have launched a project to recruit and train 100 new construction assessors across all of Scotland's colleges delivering construction apprenticeships.
This two-year project is targeting experienced tradespeople working in the construction sector. This unique project will recruit and train 100 new construction assessors that will enable the efficient delivery of assessments for apprenticeships in Scotland.
The Scottish Assessors project is a great example of how we work in partnership with training delivery organisations to ensure that construction has the right people, with the right skills, in the right place.

The recruitment and upskilling of assessors for specific trades – and in specific regions of Scotland – will have a hugely positive impact on the delivery of a greater number of much-needed, fully trained and qualified apprentices to the Scottish workforce

Barry Dawson, Local Manager, CITB Scotland
Recruitment drive launched for new construction assessors
A national recruitment campaign is currently underway aimed at qualified tradespeople, who may be seeking a career change, to work in partnership with their regional college. Successful candidates will have the opportunity to help support and deliver the industry's future workforce applying their current experience to assess apprentices on site, as well as ensuring qualifications are delivered to a high standard through compliance with both internal and external awarding policies, procedures and processes.
Assessors are being recruited across a range of curriculum areas:
Carpentry & Joinery
Brickwork
Painting and Decorating
Interior Systems
Timber Frame Erection
Floorcovering
Roof Slate & Tiling
Wall & Floor Tiling
Stone Masonry
Wood Machining
Plastering
Interested? We want to hear from you! If you think you are suited to the role of Construction Assessor, CLICK HERE to register your interest and we will be in touch with more information.
Case Studies
| | | |
| --- | --- | --- |
| Assessor Interview 1 | Assessor Interview 2 | Assessor Interview 3 |
National training and development plan for new assessors
This sector leading project will also deliver a national training and development plan for new assessors which will complement essential qualifications being undertaken through the colleges.
Becoming an assessor can be a rewarding career choice and the opportunity to shape the next generation of talent. It is a key role in the success of the construction sector, helping new entrants to gain their qualifications and become highly skilled in their trade.

This is a fantastic opportunity for experienced industry professionals to use their skills and knowledge in a new capacity and we would encourage them to find out more about this fantastic job opportunity.

Jim Brown, ESP Director
Mark Stevenson, Apprentice Manager for Taylor Wimpey West Scotland,