Energy Transition Priorities
The energy sector is one of Scotland's key economic drivers and requires a national skilled workforce and talent pool for Scotland's energy sector. ESP's priorities in energy transition focus on the following areas:
CESAP Implementation
On and Offshore wind
Hydrogen Technologies
Engage and Influence
ESP has regular meetings with Scottish Government's wind team and hydrogen policy teams, identifying ongoing and future skills needs. We also represent the voice of the colleges on Energy Skills Alliance Introductory Energy Transition Qualification ensuring that current curriculum developments within hydrogen and wind are included, preventing duplication of effort.
Capability and Capacity
ESP has developed several online courses aimed at raising awareness of different energy sectors, designed to be accessed by a wide audience, including but not limited to, school and college students, community groups, government and its agencies and companies and their employees. Our hydrogen awareness course, developed in partnership with SGN and UHI Orkney demonstrates hydrogen and its applications and is used as an induction tool within Scottish Government's hydrogen policy team.

Our offshore wind awareness course is aimed at raising awareness of the wind sector in line with SOWEC's goal of developing a highly skilled, diverse workforce.

We have increased capability amongst our member colleges by continuing to collaborate with colleges around the world to share best practice, especially important with emerging technologies such as hydrogen. Our relationship with Northern Regional College in Ballymena helped to support the development of CPD in hydrogen skills including Birmingham University's KnowHy, Train the Trainer Hydrogen CPD.
ESP has developed an immersive virtual reality programme for wind turbine training. A collaboration with Dundee & Angus College and their Seagreen Skills for the Future project has allowed the update of this software for the Wind Training Network. In 2023, ESP was awarded a grant from Ufi Voc Tech Trust to develop an immersive hydrogen refuelling station virtual reality programme in collaboration with partners from Aberdeen City Council and H2 Accelerator. Further investment from Transport Scotland enabled ESP to expand on this development.
In 2023, our first cohort of lecturers from colleges across our Automotive and Hydrogen Training networks completed PDA Hydrogen: An Introduction for Technicians. The first formally accredited award specifically for hydrogen sector. This award was developed in alignment with Industry requirements.
Training Networks and Projects
Hydrogen Training Network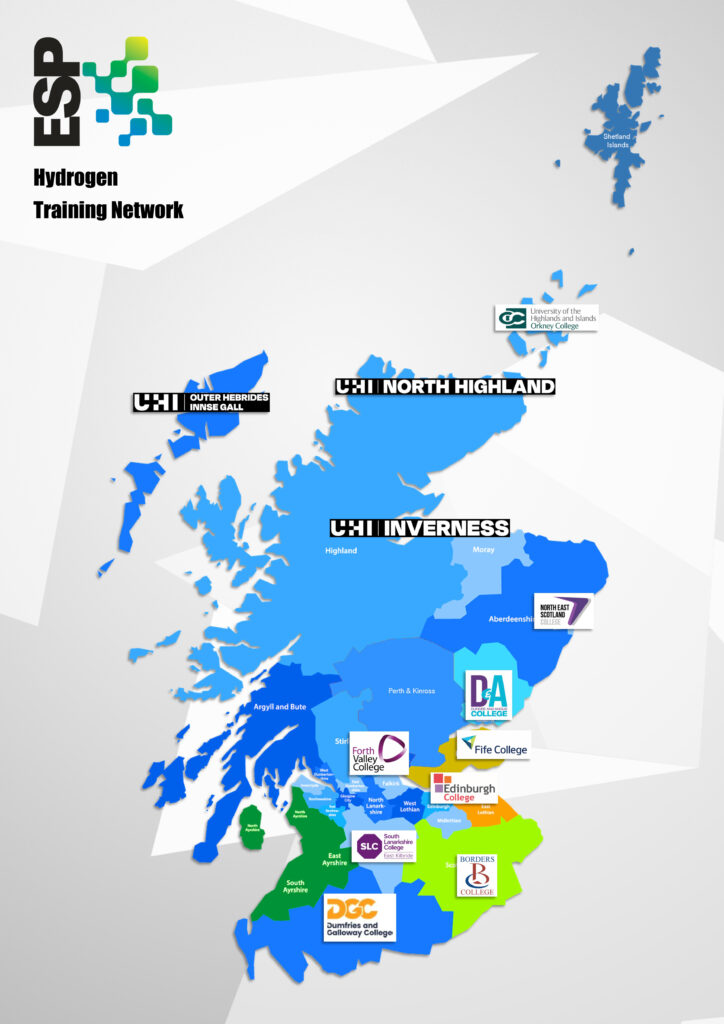 Hydrogen energy plays an important part in the transition to net zero in line with Scottish Governments target for 2045. As an emerging technology, there is a need to raise awareness among future users of hydrogen. Through our discussions with industry and government agencies, ESP identified the need to develop the capability and capacity of Scotland's colleges to address the expected significant demand for hydrogen skills and established the Hydrogen Training Network in 2019. There are synergies across both the hydrogen training network and automotive training network with network activity taking place across both.
ESP continues to develop the capability and capacity of the Hydrogen Training Network through learning journeys, webinars, sharing of existing college expertise and speaking with industry experts and technology partners.
Hydrogen Skills Project
ESP has several Lucas Nülle UniTrain desktop units with hydrogen fuel cell technology and automotive electrical fundamentals. Our Automotive and Hydrogen Training Networks have access to these units and use them to enhance learning with students and for demonstrations.
Through support from Transport Scotland, ESP were also able to acquire a 50 watt fuel cell trainer and a hybrid hydrogen energy lab system and associated experiments situated at Michelin Scotland Innovation Scotland Parc skills academy which will be available to colleges within the Hydrogen Training Network. This is part of a larger plan to have a range of hydrogen training equipment at MSIP to support hydrogen skills within Scotland.
Wind Training Network
In response to industry demand ESP worked with industry partners to establish the Wind Training Network in 2012, a formal college network to support large-scale renewables across Scotland which at the time was focused on onshore wind.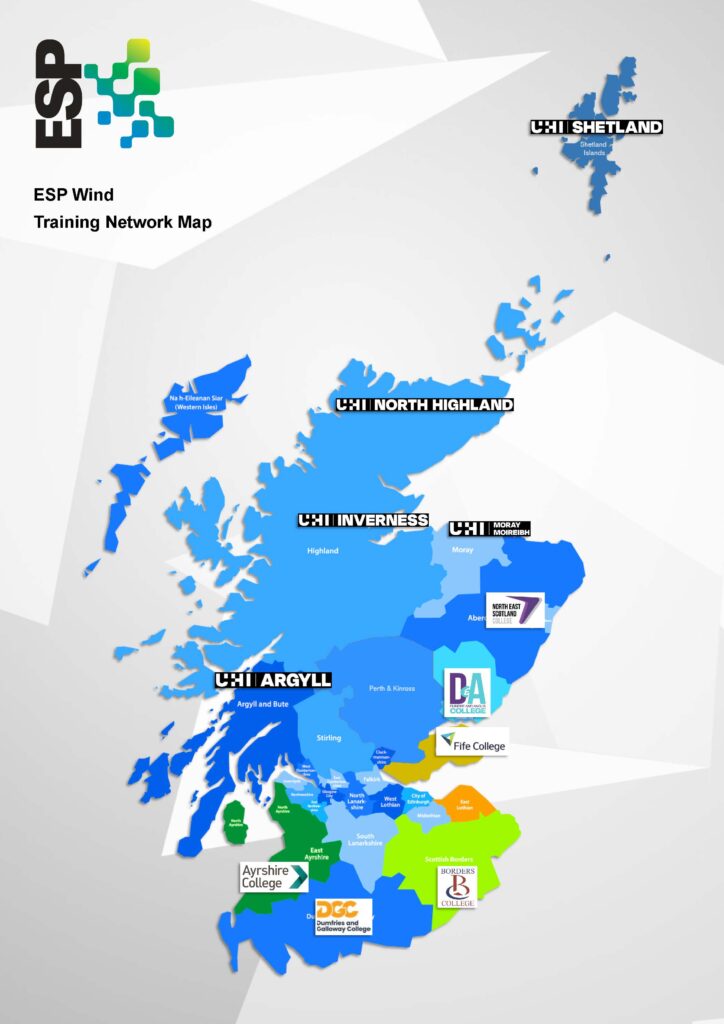 Key priorities of the Wind Training Network are:
Supporting the Energy Transition
Developing Capability and Capacity
Supporting Industry and Individuals
Supporting Government Priorities
It is an exciting time for wind power generation with ambitious targets to more than double onshore production to 20GW by 2030. This is in addition to the increased offshore wind activity, with the Scotwind leases alone predicted to produce in excess of 28GW beyond 2030. Our wind training network colleges have expanded from 3 to 11 members to meet industry needs with, UHI Shetland being the newest member.
Partnerships and Collaborations
CENSIS
November 2021 brought COP26 to Scotland with ESP asked to participate in Scotland's Contribution to COP26 a just transition to Net Zero, an online event organised by the Scotsman and CENSIS. ESP led the session on skills development and covered the activities undertaken by our training networks in offshore wind, hydrogen, low carbon transport, manufacture, and energy efficiency. Each session can be viewed below.
All Energy
ESP has hosted a skills zone for the 2nd year at All Energy. Demonstrating the training available to industry through the college network.
ESP represents the colleges within several organisations and on a number of different groups, positioning our members as a first choice for technical skills.
SOWEC – Scottish Offshore Wind Energy Council
SHINE – Scottish Hydrogen Innovation Network
Skills for offshore wind partner meeting
Recent ScotWind developments has increased the need for collaboration with SDS, Scottish Enterprise, SDI and the inward investment team as well as discussions around an online skills portal for the wind industry.