Introduction
Our Engineering Leads' Forum has been running since 2012. An Energy and Engineering themed group, the purpose of this group is to bring engineering experts together to lead on change that will build up college capacity and capability in line with Scottish Funding Council and Skills Development Scotland's strategic aims and current priorities with a strong focus on future developments.
The Leads' Forum is made up of curriculum managers and leaders, with invited guests from industry bodies and government agencies who collaborate and work together towards developing an employment and skills system which is simpler, better integrated and able to deliver the skills and jobs needed to succeed in the 21st Century global economy.
Our aim is for Scotland to be at the forefront of skills development for the Engineering sector and to ensure the right skills are being developed at the right time to meet industry and colleges regional needs.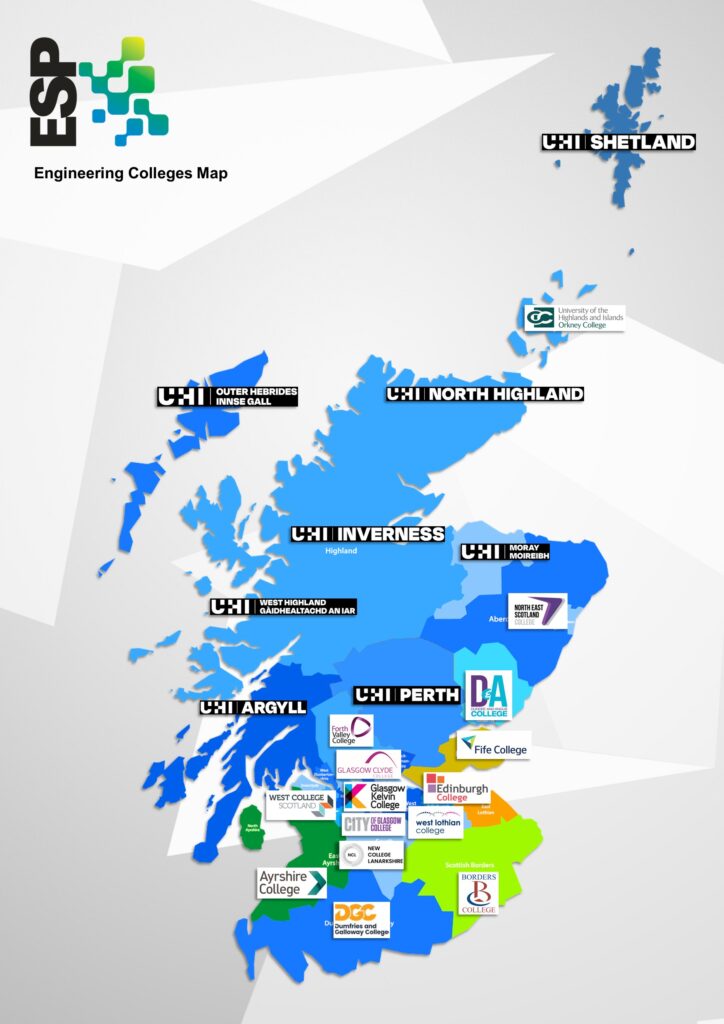 The Engineering Leads Forum priorities are supported by several sub sector training networks:
Additionally short-life working groups will be established, should there be an emerging skills need or priority.
Engage and Influence
During academic year 2021-22 the engineering strategy group was refreshed into a Leads Forum and a new ToR created. As part of this change, more external speakers were invited in to present on industry priorities. Academic year 2021-22 was a year of review for engineering qualifications. Speakers included SQA on HN Next Gen and Enginuity and SDS on the Modern Apprenticeship review. ESP continue to inform and represent the colleges on the development, piloting and implementation of new qualifications and standards.
ESP contributed to NMIS community of practice and network of networks mapping providing details of college offering to the manufacturing support network.
Regular attendance at ESLG and an enquiry via the inward investment team at SDS highlighted the need for action around fabrication and welding skills within Scotland. ESP are working collaboratively with partners at a national level to identify significant skills demand in floating offshore wind projects that will commence in 2026 with the aim to ensure Scotland is at the forefront of skills development in support of the wider Fabrication & Welding sector. At first this was thought the increase in demand was just from the Scotwind leasing round but it quickly became apparent that there was a need for fabrication & welding skills in a number of sectors including but not limited to shipbuilding, food & drink and offshore wind. Our Fabrication and Welding Training Network was established in 2022 to address skills shortages.
Capability and Capacity
ESP continues to provide support to colleges by developing and embedding curriculum developments in Advanced Manufacture and Basic Technician Training for the wind industry.
Training Networks and Projects
Advanced Manufacture Training Network
Building on ESP's Advanced Manufacture conference at Forth Valley College Stirling Campus. The Advanced Manufacture Challenge fund was launched at this conference and ESP has supported colleges with their bids. The training network has attended numerous CPD visits to our industry partners including:
Fabrication and Welding Training Network
The main project within Engineering & Manufacture was the emerging significant need for fabrication and welding skills. This led to the establishment of our fabrication & welding training network.
Scoping of existing fabrication & welding provision within colleges

Requirement for


Curriculum development
Trained staff
Additional equipment and resources
The activity since its formation in AY 21-22 has helped to build a foundation and work plan for future activities.
Oil and Gas Training Network
There is no current requirement for new skills in Oil & Gas or decommissioning. Member colleges of this network have representation in other training networks. ESP would look to resurrect this training network should there be an emerging skill need.
Partnership and Collaboration
Working collaboratively with SDS, HIE and College members, ESP carried out a mapping exercise to establish the current capability and capacity within training providers. A SLWG was established as a sub-group of the Advanced Manufacture Training Network but it quickly became apparent that this needed to be a training network in its own right. Within the first meeting, it was established that colleges require significant investment to increase capability and capacity. One of the first actions of the Fabrication and Welding Training Network is to review current curriculum and qualifications.
ESP continues to have regular catch-ups with SMAS and CENSIS as well as attending pilot meetings for Digital Manufacturing on a Shoestring in Scotland. Fife College hosted colleagues from the Institute of Manufacturing at Cambridge University to determine how the project may work for colleges in Scotland. Dumfries & Galloway college attended a requirements workshop on behalf of the Advanced Manufacture Training Network aimed at implementing Shoestring project within the college sector.
Following on from the successful lunch and learn sessions CENSIS provided last academic year, discussions have been taking place within the AMTN on the delivery of an IoT installation and maintenance short course. This will be developed by CENSIS and participating colleges will deliver to industry. "The activity within AY 21-22 has helped to build a foundation and work plan for future activities. "