ESP's Engineering Strategy Group is made up of curriculum managers and leaders within engineering departments of Scotland's colleges.  The Engineering Strategy Group has a strong focus on future developments and leads on change, building college capacity and capability in line with Scottish Funding Council and Skills Development Scotland's strategic aims and current priorities.  The group has strong links with industry and collaborates with government agencies developing a strong employment and skills system able to deliver the skills and jobs needed in the 21st Century global economy.  A number of sub-sector groups support the role of the strategy group, with subject specialists collaborating on specific projects.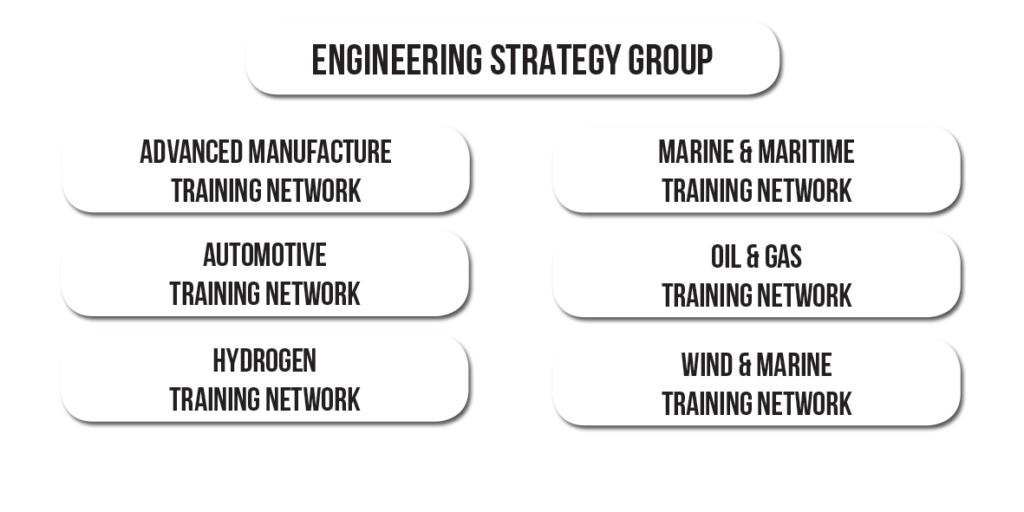 Our aim is for Scotland to be at the forefront of skills development for the Engineering sector and to ensure the right skills are being developed at the right time to meet industry and colleges regional needs.
Policy Drivers and Influence
Key Scottish Government policy drivers for our engineering strategy group are

Projects
Many of our engineering projects focus on emerging technologies such as advanced manufacturing, electric vehicles, hydrogen technologies and wind energy.  Here are some of our recent projects.
Curriculum and Resource Development
Throughout academic year 2019-20 ESP coordinated 11 colleges developing a number of awards.  In line with our industry partner's thoughts on Industry 4.0 and advanced manufacture and the need for qualifications to upskill and reskill their existing workforce, we developed two PDAs, one in Advanced Manufacture and one in Industrial Automation.  Learning and teaching materials and assessments are available to our member colleges by emailing info@esp-scotland.ac.uk.  Our marine and maritime training network developed learning and teaching materials and assessments for NPA in Maritime Studies.  As well as our online offshore wind awareness course we have also developed an online hydrogen awareness course in partnership with SGN, Orkney College UHI and Dundee and Angus College.
Our ongoing relationship with industry partners such as IMI, Electude, Universal Robots, NPL meant that during the early stages of Covid-19 lockdown ESP and our member colleges were offered access to online teaching materials. 
Building on earlier work within our Automotive Training Network, ESP embarked on a programme of CPD for college staff and a programme to raise awareness of Electric vehicle repair and maintenance courses for independent garages.  Supported by Transport Scotland, over 90 (95) college staff have been trained to IMI L3 Hybrid and Electric Vehicle Repair and Replacement.  Over 130 (138) attended awareness events for independent garages with several more planned.  We have purchased a number of shared resources for use by the colleges within the network. Include future plans/priorities HGV, outreach (started in Academic Year 19-20). An Automotive Training courses in Scotland brochure to provide an overview of relevant training available through the network was also produced.
ESP are active members of Transport Scotland's Ultra Low Emission Vehicle skills steering group (Whose membership also includes SDS, SMTA, IMI, SE)
Hydrogen
Online Hydrogen Awareness Course
ESP, in partnership with SGN, Orkney College UHI and Dundee and Angus College, have developed an online awareness course in Hydrogen.  From discussions with SGN and government agencies, we realised that the expansion of the hydrogen economy is projected to make a significant impact on sustainable economic health.  There was a need for general awareness of hydrogen and its uses.  An online course was developed aimed at a broad audience with the purpose of introducing a future career in hydrogen.  Industry involvement was sought through SGN and SHFCA members.  Areas covered include;
· Introduction to hydrogen
· types of hydrogen
· health & safety
· future careers options in the hydrogen industry
The course was piloted with six colleges and industry partners during April 2020.  Feedback from the pilot was positive and will inform future phases of the tool.  With the potential to increase content and develop into a comprehensive course which will signpost those interested in a career in hydrogen to the appropriate path.  Colleges can use the course with engineering and science students and school groups.  Industry plans to use the course as an education tool for gas network customers.  Future priorities for hydrogen include CPD events for college staff and the development of learning materials focusing on hydrogen and transport and operational safety. 
Access the Hydrogen Awareness course here.
Wind and Marine Training Network Expansion
With the development of the Forth & Tay and Deepwind clusters ESP recognised the need to expand our Wind and Marine Training Network.  Supported by Scottish Government, we have successfully expanded our network from three colleges to seven.  This support has included knowledge transfer from our established wind technician colleges to our new colleges, accreditation or re-accreditation for all seven colleges to the Global Wind Organisation (GWO), additional shared resources to enable our colleges to deliver GWO approved courses (Sponsorship of candidate's health & safety training, a requirement of GWO to work on any wind turbines.)  Recognising the Scottish wind industry in not yet mature, ESP developed an online awareness course for individuals interested in increasing their knowledge of offshore wind which can be accessed here.  We have also developed Step into Renewables, a section of our website specifically aimed at young people and the offshore wind industry.
Teaching Materials Register
ESP has supported the development of a number of shared resource teaching materials by working with members and partners to support curriculum development across engineering, energy and construction as well as the partnership's extended remit. This activity has stemmed from both industry and member priorities and through a collaborative approach ESP has been able to recognise the need to introduce new courses and update learning material suitable to meet industry's needs.
These teaching materials are available to member colleges and a list of the materials can be found in the register.

Equipment and Shared Resources Brochure
ESP has supported the purchase, development and also received sponsorship/donation of a significant number of shared resources for colleges to use including promotional materials, for events, engaging STEM activities for all age groups to encourage team building skills and hands on experience with industry standard training equipment for college staff and students.
An ESP Equipment and Shared Resources brochure has been produced and is available to download. The brochure details the wide range of resources available for colleges to book from ESP and key sector partners.

STEM Resources Brochure
The resources contained in this brochure are available to colleges and are intended for use at events, open days, STEM fairs etc.
All resources can be booked using the listed contact details for each resource but availability cannot be guaranteed at all times. Certain pieces of equipment do require college staff to be trained in the operation of them and these are listed under those resources in the brochure.

STEM Fair "How to Guide"
ESP have run a number of successful STEM events across Scotland over the last few years. These are STEM inspirational events primarily aimed at S1 and S2 pupils in order to influence their National 5 subject choices.
The STEM Fair "How to Guide"
provides complete guidance for colleges and supporting partners to assist in running their own STEM event or fair.